The chocolate manufacturing process is as follows:
Feeding → mixing → fine grinding → refining (spices, phospholipids) → sieving → heat preservation → temperature adjustment → casting molding → vibration → cooling and hardening → demoulding → selection → packaging
The above is mainly the processing flow of chocolate manufacturing plant, let us have a deeper understanding next.
1. Pretreatment of Raw Materials
(1) Cocoa liquor, cocoa butter, and cocoa butter substitutes are solid at room temperature. They need to be melted before being mixed and finely ground.
(2) The crystalline particles of granulated sugar are of different sizes. The granulated sugar should be pulverized to a certain fineness, which is beneficial to the mixing, grinding and refining of the materials, and it can also make the fineness of the materials uniform.
(3) For dairy products with high moisture content, the moisture must be removed first, and then the dried milk powder is screened, and the fine and uniform particles are added to the raw materials.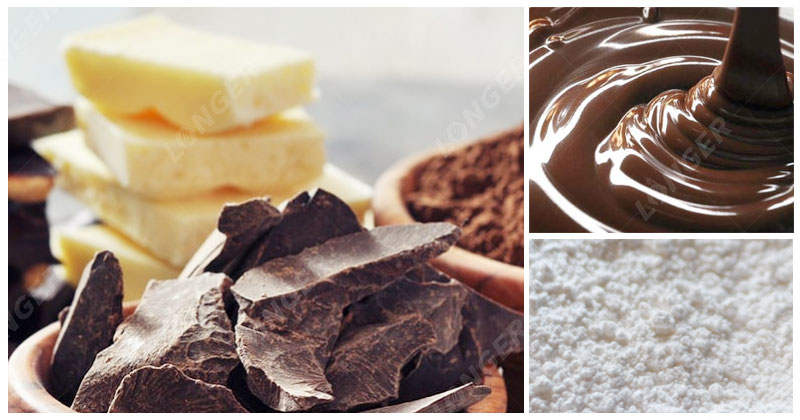 2. Mixing of Raw Materials
The various pretreatment raw materials are measured according to the product ingredient ratio and added to the mixer for sufficient mixing.
3. Fine Grinding of Materials
During the chocolate manufacturing process, the fine grinding of ingredients is the basic production link. Fine grinding is to make every part of the chocolate particles very small, making the taste smooth and smooth. Usually, the average particle size of the material particles reaches 15-30 microns to meet the technical requirements.
4. Chocolate Conching Process
During the refining process, the physical and chemical properties of the chocolate material will change to varying degrees, which will have an extremely important impact on the texture and fragrance of the chocolate material, which will greatly improve the quality of the chocolate.
There are many types of chocolate conching equipment and different operating procedures. The most common one is this type of chocolate conche machine.

5. Chocolate Tempering Process
Temperature adjustment can make the cocoa butter crystals in the slurry form stable β crystals, which can be expressed with a black luster, and can also extend the shelf life of the product.
6. Chocolate Moulding Process
The pouring and molding step quickly transforms the chocolate material from a fluid to a stable solid. Due to the wide variety of chocolate, it must be molded according to the characteristics of various products.
In addition, to complete such an injection molding process, the following process conditions must be met:
① The chocolate material must meet the requirements of the temperature regulation process, and have normal viscosity and flow properties;
②Choose a model that meets the casting requirements and strict injection molding process requirements;
③It has a pouring device with good performance to maintain the proper temperature and distribution of the material during the pouring process;
④The cooling of the injection-molded chocolate material ensures the normal release of the chocolate.
Professional high-quality chocolate depositor machine can help you easily manufacture high-quality chocolate products, so the choice of equipment is very important.