Structure of Industrial Chocolate Tempering Machine
It is mainly composed of a temperature control center, a cold and hot water circulation pipeline system, a circuit system including a temperature sensor, a solenoid valve, and heating, cooling, and cabinets.
Working Principle of Automatic Chocolate Tempering Machine
The temperature adjustment center is divided into multiple layers, divided into four temperature zones according to the temperature adjustment requirements. After setting the temperature, the temperature is continuously changed through the five-segment cam structure to achieve the purpose of temperature adjustment.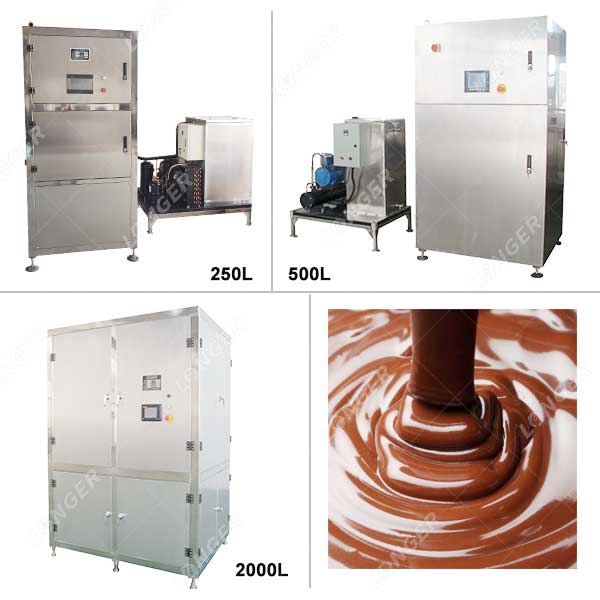 Advantages of Commercial Chocolate Tempering Machine
The temperature is adjusted by operating the temperature controller on the control panel, and the four different temperature zones are controlled by four different temperature controllers.
Using a temperature sensor, the chocolate paste temperature control accuracy can reach ±1℃.
Each slurry layer has a stirring slurry to make the temperature of the chocolate slurry even.
The chocolate slurry has an excellent crystalline state after forming, a smooth mouthfeel, outstanding brightness, and good storage performance.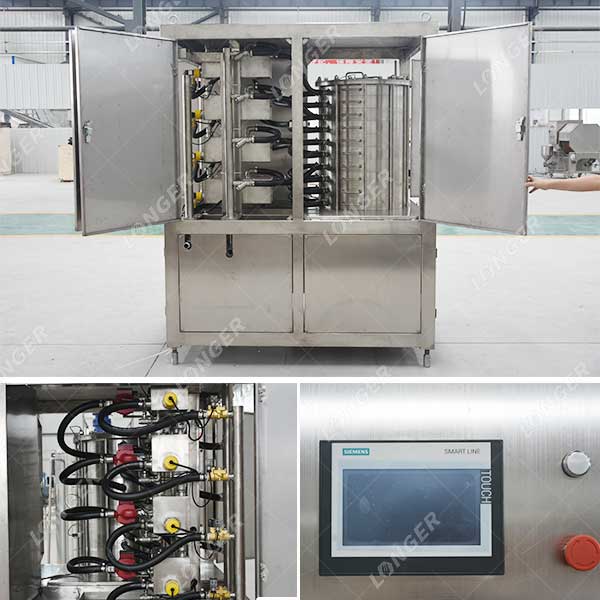 Parameter of Chocolate Tempering Machine for Sale
| | | | | |
| --- | --- | --- | --- | --- |
| Model | LG-CT250 | LG-CT500 | LG-CT1000 | LG-CT2000 |
| Capacity(kg/h) | 250 | 500 | 1000 | 2000 |
| Power(kw) | 8.3 | 10.57 | 15 | 18.5 |
| Weight(kg) | 580 | 880 | 1200 | 1500 |
| Dimension(mm) | 1100*800*1900 | 1200*1000*1900 | 1400*1200*1900 | 1700*1300*2500 |
Key Points of Using Chocolate Tempering Machine:
During normal operation, the refrigeration unit should be turned on first to reduce its temperature to the set range, and then the main engine and slurry pump should be turned on.
We can set the regular chocolate tempering temperature, and users can adjust it according to their own chocolate craft recipe.
The heating of water and the temperature of hot water are also automatically controlled by the temperature controller.
Output adjustment: The output of the machine is determined by the slurry pump (the maximum volume is not greater than the nominal output).
---
Send us your request and we will provide you with a complete chocolate solution and quotation.
Email: serena@machinehall.com  WhatsApp/Mobile: +8615515597212