Brief Introduction of Chocolate Storage Tank:
The holding tank is mainly used for heat preservation and storage of the refined chocolate slurry, which is suitable for continuous production requirements. 304 stainless steel is used inside and 201 stainless steel is used outside, which can be changed.
Function of Chocolate Holding Tank:
Cooling, heating, and heat preservation are the basic functions of the machine. The machine can also stir the chocolate slurry and has the functions of degassing, deodorizing, dehydrating, and preventing the separation of slurry, grease and other materials.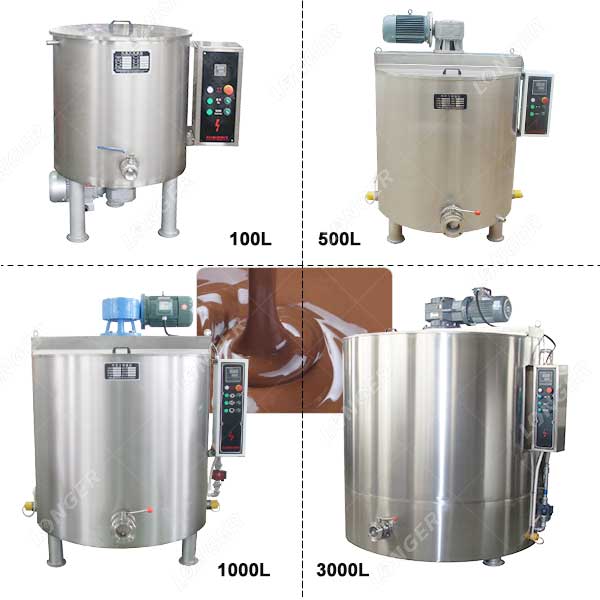 Structural Features of Stainless Steel Chocolate Storage Tank:
A heat transfer interlayer is arranged between the inner and outer tanks, and water is used as the heating medium in the interlayer to heat the sauce.
Electric heating temperature is used to control the water temperature, which can keep the chocolate slurry in the container at a certain temperature.
There is a stirrer in the center of the tank, which can stir the materials to increase the heat exchange rate of the materials to achieve uniform mixing and consistent temperature.
Parameter of Chocolate Storage Machine
| | | | | | | |
| --- | --- | --- | --- | --- | --- | --- |
| Model | LG-CG100 | LG-CG200 | LG-CG300 | LG-CG500 | LG-CG1000 | LG-CG2000 |
| Max capacity(L) | 100 | 200 | 300 | 500 | 1000 | 2000 |
| Speed(RMP) | 23.5 | 23.5 | 23.5 | 23.5 | 23.5 | 23.5 |
| Motor power(kw) | 0.55 | 0.75 | 0.75 | 1.5 | 2.2 | 3.0 |
| Electric heating power(kw) | 2 | 4 | 4 | 4 | 6 | 9 |
| Weight(kg) | 150 | 200 | 280 | 500 | 900 | 1500 |
| Dimension(mm) | φ700*950 | φ800*1150 | φ900*1250 | φ1000*1380 | φ1220*1850 | φ1700*2100 |