The cereal chocolate making machine is mainly used to make oatmeal chocolate bars, cereal chocolate bars and other products. The machine has been further improved on the basis of the introduction of foreign technology. It adopts double pumps, double material mixing and all adopts frequency conversion speed control PLC control.
Main performance and characteristics:
1. PLC control, industrial man-machine interface, conversational operation, Chinese display parameters are intuitive and simple, and the selection operation is more convenient to use.
2. Can store dozens of different product formula parameters, product replacement can be done with just one key, and parameters can be dynamically adjusted during operation.
3. The material of the molding part is 304, which is more stable, easier to clean, and meets food hygiene standards.
4. The chocolate conveying and mixing temperature is controlled by a constant temperature device, which can stabilize the constant temperature of the chocolate slurry.
5. Automatic alarm device to remind failure, chocolate level, low material.
6. Direct compression molding, no rework waste and loss.
7. Automatic material distribution, automatic leveling, automatic cooling, automatic demoulding. Large output, high efficiency, no labor required.
8. The mold is a quick-change template, which is convenient and quick to change the mold.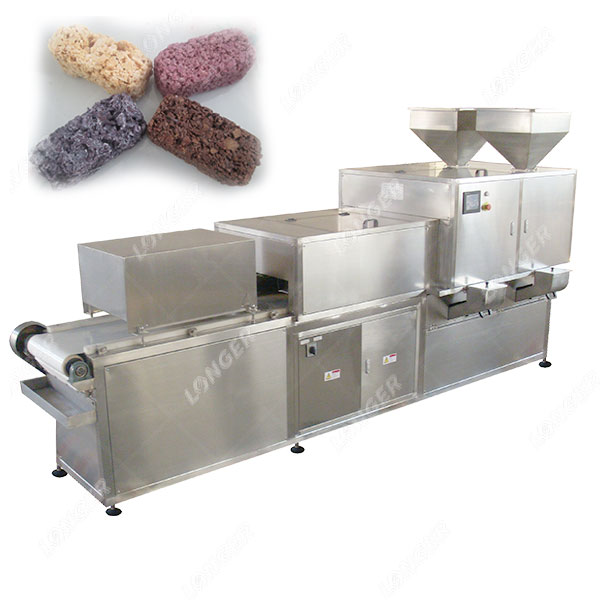 Scope of Application of Oatmeal Chocolate Making Machine:
It is suitable for the production of coarse grain sugar mixed with any particle shape objects such as chocolate oatmeal, oats, chestnut rice, peanuts, nuts and so on.
For more information, please contact us:
Email: serena@machinehall.com
WhatsApp/Mobile: +8615515597212