Introduction of Chocolate Enrobing Machine Price
The chocolate enrober is the special equipment for producing colorful chocolate products. It can coat chocolate on the surface of cakes, biscuits, wafers, candy and other products. This machine can realize full coating, bottom coating, partial coating, and has a cooling function.
Structure of Chocolate Enrober for Sale
The enrobing machine consists of a pouring machine and a cooling tunnel. The pouring machine is composed of a pouring mechanism, a core material feeding mechanism, a slurry cylinder, a slurry pump, a slurry pipe, a transmission motor, and a frame.
Working Principle of Commercial Chocolate Enrober Machine:
The products are sent out from the arranging mechanism, and the products are evenly coated with chocolate liquid on the conveyor through the steel wire, and then sent to the tunnel cooler after the hot air treatment, so that the chocolate is cooled and the chocolate is solidified and shaped.
Structural Advantages of Chocolate Enrobing Machine
Smooth running and even chocolate coating.
The mesh belt is made of stainless steel, which meets food safety and sanitation requirements.
Circulating refrigeration reduces the loss of cooling capacity and improves the working efficiency of the refrigeration unit.
The cooling tunnel is connected by seven sections of racks, and the outer layer is all made of thermal insulation boards, which can be fully opened.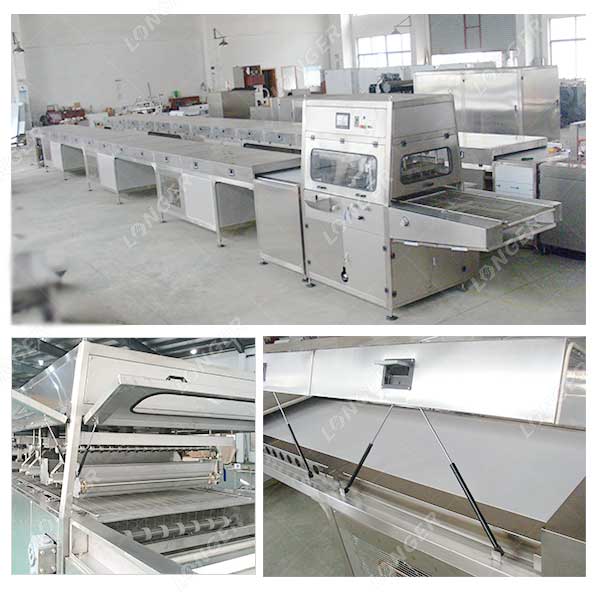 Parameter of Chocolate Enrober Price
| | | | | | | |
| --- | --- | --- | --- | --- | --- | --- |
| Model | LG-CT400 | LG-CT600 | LG-T800 | LG-CT1000 | LG-CT1200 | LG-CT1500 |
| Conveyor Belt Width (mm) | 400 | 600 | 800 | 1000 | 1200 | 1500 |
| Running speed (M/Min) | 0-10 | 0-10 | 0-10 | 0-10 | 0-10 | 0-10 |
| Cooling tunnel temperature(℃) | 0-8 | 0-8 | 0-8 | 0-8 | 0-8 | 0-8 |
| Cooling tunnel length(m) | Customized | Customized | Customized |  Customized | Customized | Customized |
| Dimension(mm) | L*800*1860 | L*1000*1860 | L*1200*1860 | L*1400*1860 | L*1600*1860 | L*1900*1860 |