Introduction of Chocolate Bean Making Machine
The chocolate beans maker adopts the principle of cold rolling and can produce pure chocolate beans in various shapes. Fully automatic, low energy consumption and high efficiency.
Structure of Chocolate Ball Making Machine
This machine includes cold rolling counter rolls, cooling system, cold channel and edge separation mechanism.
The standard machine is equipped with two sets of molds, each has its own production process, and can produce two different shapes of products at the same time.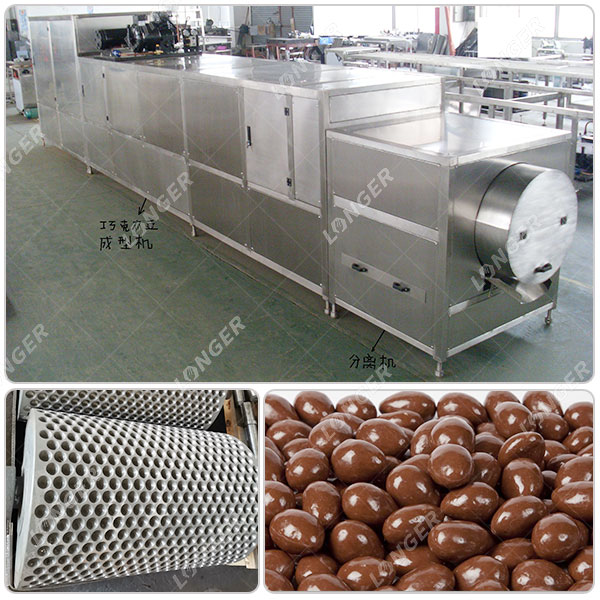 The Function of Chocolate Beans Forming Machine:
The machine is specially used for forming different shapes of pure chocolate such as ball shape, ellipse shape, bean shape and a variety of other shapes. Hygienic and safe.
Advantages of Chocolate Ball Forming Machine
The finished chocolate beans have standard size, accurate weight and good taste.
Mold shape can be customized (such as M bean shape, olive shape, triangle shape, cashew shape, ball shape, etc.).
High degree of automation, large output and simple operation.
The machine is made of food-grade materials and works under fully automatic airtight conditions, safe and hygienic.
Parameter of Automatic Chocolate Bean Making Machine
Model
LG-CCJ400
LG-CCJ600
Capacity(kg/h)
200
300
Power(kw)
25
25
Dimension(mm)
8620*1040*1840
8620*1240*1840
Net Weight(kg)
2400
2600
Cooling Tunnel Length(m)
7.4*3 layer
PU belt width(mm)
600
800
Cooling Tunnel Temperature (℃)
0~5