Introduction of Chocolate Production Line
This chocolate manufacturing equipment is a small-scale, fully automatic chocolate equipment, which is mainly used to produce various natural chocolate bars, such as single-color chocolate, two-color chocolate, and heart-filled chocolate.
Chocolate Manufacturing Process:
Melting – Conching and Refining – Storage – Tempering – Depositing and Cooling – Packing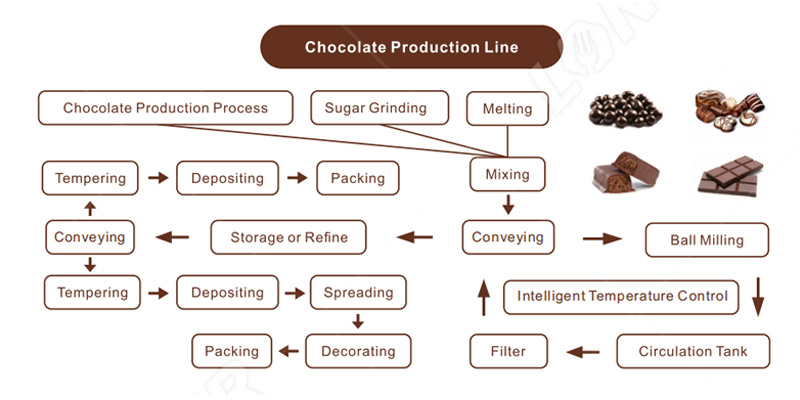 Advantages of Small Scale Chocolate Production Line:
This set of equipment is a modern production line specially designed for chocolate candy processing. Safe, reliable and efficient.
The whole series of products are made of SUS304 stainless steel with excellent craftsmanship.
The key components adopt international first-class brands such as Siemens, Omron, SMC, etc.
Note: Different solutions can be customized according to customer requirements to adapt to customers' different product and output requirements.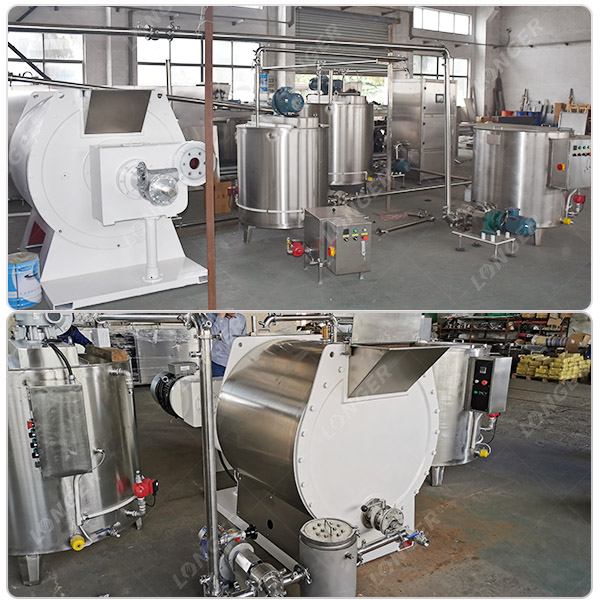 Small Scale Chocolate Processing Equipment:
1. Chocolate Melting Machine
The melting pot is mainly used to melt solid cocoa butter into a liquid state.
2. Chocolate Refiner and Conche Machine
The refiner is one of the key equipment in the chocolate production line. It is mainly used to finely grind the chocolate slurry and has the dual functions of conching and refining.
3. Chocolate Storage Tank
The holding tank is a storage container for storing the refined chocolate slurry at a rated temperature to meet the technological requirements of chocolate production.
4. Chocolate Tempering Machine
This machine is specially designed for natural chocolate production based on the characteristics of natural cocoa butter and cocoa butter-like tempering oil. This machine can strictly control the temperature required in each stage of the chocolate tempering process to ensure the demoulding of the chocolate and the quality of the product.
5. Chocolate Depositing Machine
This is a fully automatic pouring machine that integrates mold drying, pouring, vibration mold, cooling, demolding, and conveying. It can produce single-color, double-color, and paste-filled chocolate products.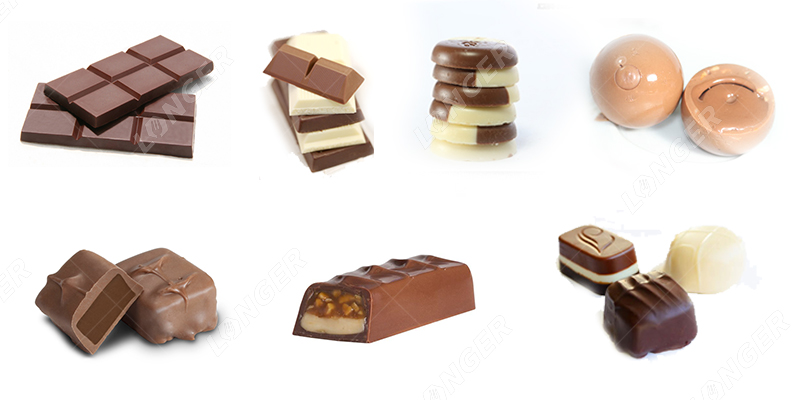 6. Chocolate Bar Packing Machine
The pillow type packaging machine adopts dual frequency converter control, the bag length is set and cut immediately, no need to adjust the empty running, one step is in place, saving time and film.