The chocolate refiner machine has both the functions of conching and refining. It is mainly used to finely grind chocolate raw materials, such as cocoa powder, cocoa butter, powdered sugar, milk powder, etc. Refining can improve the final texture and flavor of the chocolate.
The refining time is about 20 hours, and the average particle size can reach 20μm.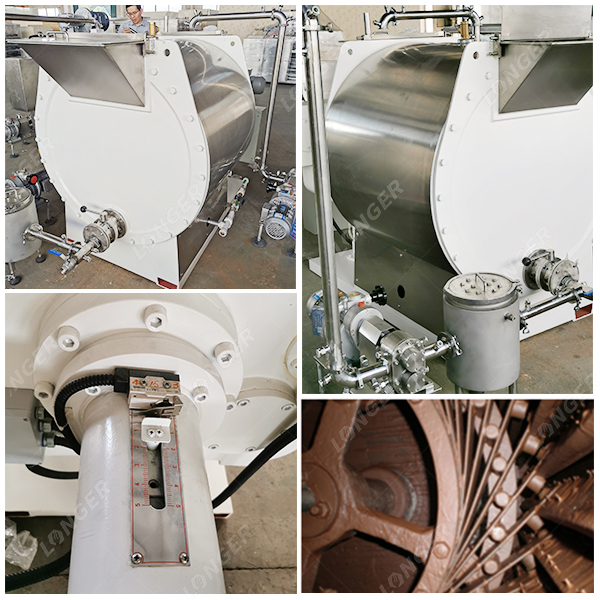 Structure of Chocolate Melanger Machine
It is mainly composed of a machine body, a knife rest, a transmission part and a discharge gate.
The degassing port at the end of the body is a rectangular port. The outer layer of the machine is made of stainless steel. The bladder strips in the machine body are arranged circumferentially and axially in the shape of an internal spur gear.
Refining Process of Chocolate Refiner Machine
After the chocolate raw materials are put into the tank, the ingredients are stirred evenly by rotating; the scraper sticks to the liner of the tank wall and repeatedly grinds the slurry. In the end, the slurry is uniformly mixed, emulsified, dehydrated, and deodorized.
The refiner usually needs to be used in combination with a melting pot, a storage machine, etc. As shown below, this equipment can complete the initial processing of chocolate sauce.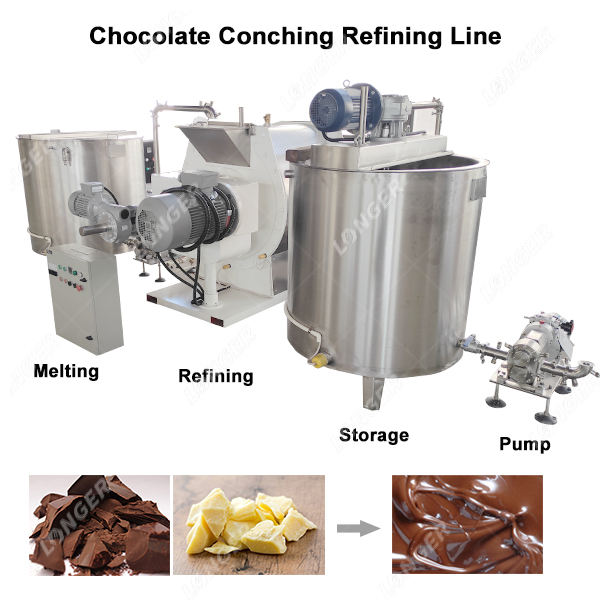 The Function of the Chocolate Refiner Conche:
Stir and mix the chocolate slurry materials evenly.
Under the action of lecithin, the melanger has a good effect on the dilution and emulsification of chocolate slurry.
Dehydration and deodorization, and can maintain the natural color and fragrance of chocolate.
The fineness of most materials reaches 15-20 microns, and the taste is smooth and smooth.
Reduce the moisture in the material so that the moisture content does not exceed 1%.
Double-layer jacket heat preservation, temperature can be adjusted.
Parameter of Chocolate Melanger Machine
| | | | | |
| --- | --- | --- | --- | --- |
| Model | LG-CJM500 | LG-CJM1000 | LG-CJM2000 | LG-CJM3000 |
| Maximum capacity(L) | 500 | 1000 | 2000 | 3000 |
| Fine grinding size(μm) | 20-25 | 20-25 | 20-25 | 20-25 |
| Fine grinding time(h) | 12-18 | 14-20 | 18-22 | 18-22 |
| Power of motor(kw) | 15 | 22 | 37 | 37 |
| Power of electric heater(kw) | 7.5 | 7.5 | 9 | 9 |
| Weight(kg) | 3000 | 4250 | 5100 | 7000 |
| Dimension(mm) | 2500*1080*1370 | 2780*1330*1800 | 3320*2000*1950 | 4200*2000*1950 |