The automatic chocolate tempering machine adopts a special tempering method, which can strictly and automatically control the different temperatures required by the chocolate paste in each process stage, with an accuracy of ±1 °C, so as to ensure the quality of the chocolate products. Therefore, the tempering machine is an important equipment in the chocolate production line.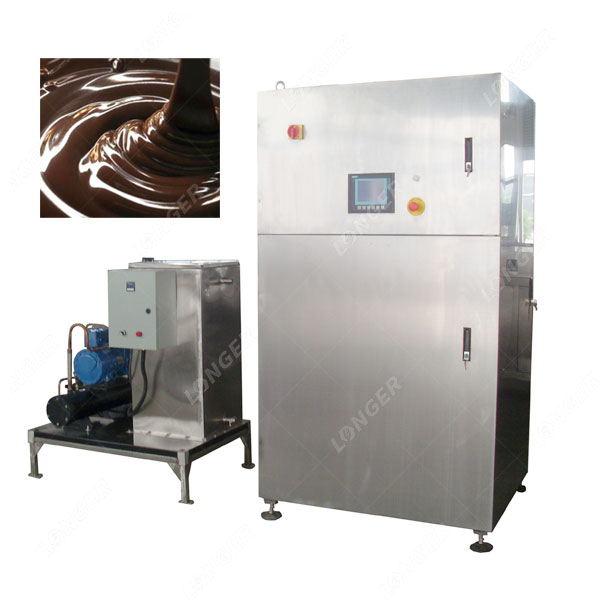 Main Structure
This machine is of compact structure and good-looking configuration.It mainly consists of the thermoregulation center,the cold and hot water circulation pipline system, the electric system including the temperature probe, electromagnetic valve, heating unit, refrigeration unit, and the case, etc. (The refrigeration system is an optional part, the user may decide whether to choose it for use or not.)
Working Principle of Chocolate Tempering Machine
The tempering central consists of jacket tank with deflector and mixing system. According to natural chocolate's temperature requirements, firstly cooling down then heating up so as to achieve the tempering purpose. The temperature sensor controls the water pump, heater and refrigerator's switch to let every part act automatically. Tye control precision could be ±1℃. There's mixing vanes inside the tank, which could make chocolate temperature uniformity.
Advantages of Automatic Chocolate Tempering Machine
With its advanced features, this machine can temper chocolate quickly and precisely.
Fully automatic temperature control system that maintains the required temperature for every stage of tempering.
User-friendly control panel that allows you to adjust the temperature and other settings easily.
Made of high-quality stainless steel and is built to last. It is easy to clean and maintain, making it the perfect choice for busy chocolate factories and confectioneries.
Highly efficient. The tempering machine can temper large quantities of chocolate in a short time, reducing production time and increasing productivity.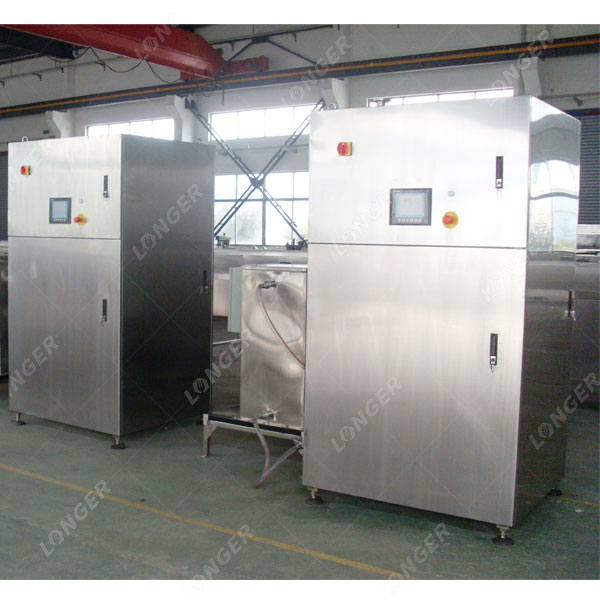 Parameter of Chocolate Tempering Machine
| | | | | |
| --- | --- | --- | --- | --- |
| Model | LG-CT250 | LG-CT500 | LG-CT1000 | LG-CT2000 |
| Capacity(kg/h) | 250 | 500 | 1000 | 2000 |
| Power(kw) | 8.3 | 10.57 | 15 | 18.5 |
| Weight(kg) | 580 | 880 | 1200 | 1500 |
| Dimension(mm) | 1100*800*1900 | 1200*1000*1900 | 1400*1200*1900 | 1700*1300*2500 |
_________________________________________________________________
Send us your request and we will provide you with a complete chocolate solution and quotation.
Email: serena@machinehall.com  WhatsApp/Mobile: +8615515597212