This chocolate paste filling machine is a linear filling line, mainly composed of a filling machine, a capping machine and a labeling machine. Imported PLC program control, touch manual operation interface, 304 stainless steel material.
This filling machine is mainly used for filling food sauces such as chocolate sauce, peanut butter, sesame paste, chili sauce, tomato sauce, etc., to increase the filling speed.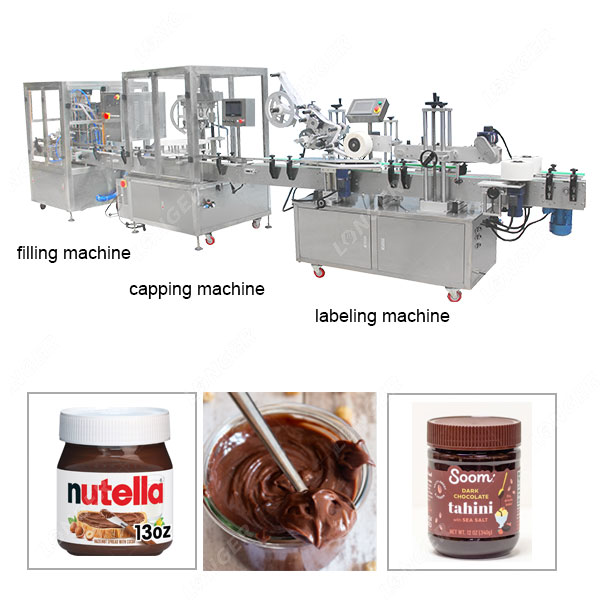 Features of Automatic Chocolate Jar Filling Machine:
Using advanced technology, using PLC and electronic fiber optic sensor control.
The six filling heads are driven and controlled by six cylinders, making the filling faster and more accurate.
With a counting function, it can record the production capacity of the day or month.
The parts in contact with the liquid, such as the filling nozzle and the trough material, are all 304 stainless steel.
Mechanical and electrical integration products, high automation intensity, smooth and accurate movements.
Equipment cleaning and maintenance are simpler and more convenient.
Adjustment of Filling Accuracy of Linear Chocolate Paste Filling Machine:
The filling error of the paste filling machine is mainly determined by the filling volume, filling speed, and the speed of the upper and lower valves. The switching speed of the upper and lower valves is related to the viscosity of the product, the greater the viscosity, the slower the valve switching speed.
The switching speed of the filling machine valve mainly adjusts the spring pressure of the valve, and the spring pressure increases, and the switching speed of the valve increases.
The spring pressure of the filling machine valve should be determined by the test filling measurement and the experience of the operator.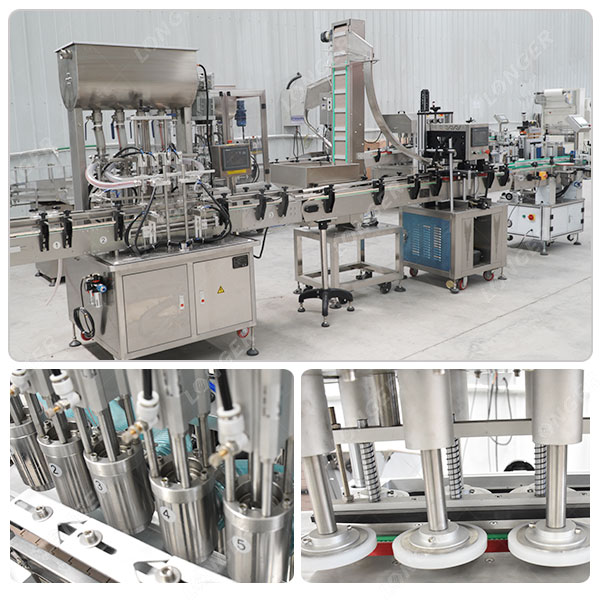 Parameter of Chocolate Paste Jar Filling Machine
| | |
| --- | --- |
| Model | GT6T-6G |
| Voltage | 220V  50/60Hz |
| Air Pressure | 0.6-0.8Mpa |
| SS Material | SUS304 |
| Main Cylinder | SMC(Japan) |
| PLC&Screen | Delta |
| Filling Volume Range | 100-1000ml |
| Filling Heads | 6 |
| Filling Speed | 12-60 Bottles/Min |
| Machine Size (L*W* H) |  3000*1000*1800 mm |
| Weight | 450Kg |
_________________________________________________________________
Send us your request and we will provide you with a complete chocolate solution and quotation.
Email: serena@machinehall.com  WhatsApp/Mobile: +8615515597212