This industrial chocolate grinding machine is used for fine milling and refining chocolate paste, mainly including cocoa liquor, cocoa butter, sugar, milk powder, etc. The chocolate grinder has sufficient grinding and strong stability, and can meet the requirements of various chocolate products. A variety of models are available to meet the needs of different scales of chocolate production.
Structure of Chocolate Grinder Machine:
The grinding machine is mainly composed of a body, a knife holder, a transmission part and a discharge door, and is driven by a pot wheel and worm.
The body part is composed of a cylinder body and a double-layer jacket, and cooling water, hot water or steam can be passed through the jacket.
The combination of the blade and the reinforcing plate adopts the middle single fulcrum, and the flexible connection is fastened, and the lower part of the reinforcing plate and two baffles are welded on both sides.
The inner wall of the machine body is arranged in the shape of an inner spur gear in the circumferential and axial direction.
The tightness of the contact between the scraper and the inner wall of the cylinder can be adjusted.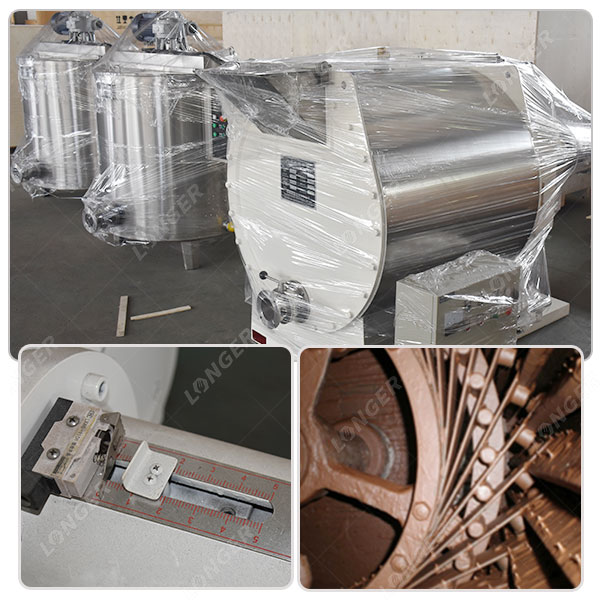 Features of Industrial Chocolate Grinding Machine:
This grinder machine has various functions such as grinding, deodorization, dehydration, dilution, emulsification, etc. It is an ideal equipment for producing chocolate.
A hot water circulation system is used to control the sauce at a constant temperature.
Adopt PLC and servo control system to realize fully automatic integrated production, simple operation and stable production.
The contact with food and the shell are made of high-quality alloy steel and acid-alkali-proof stainless steel.
A variety of models are available, from 40L, 500L to 3000L, to meet the needs of different size chocolate processing plants.
The chocolate grinder machine has reasonable layout, beautiful appearance and sufficient grinding.
Low power consumption, high efficiency and long service life.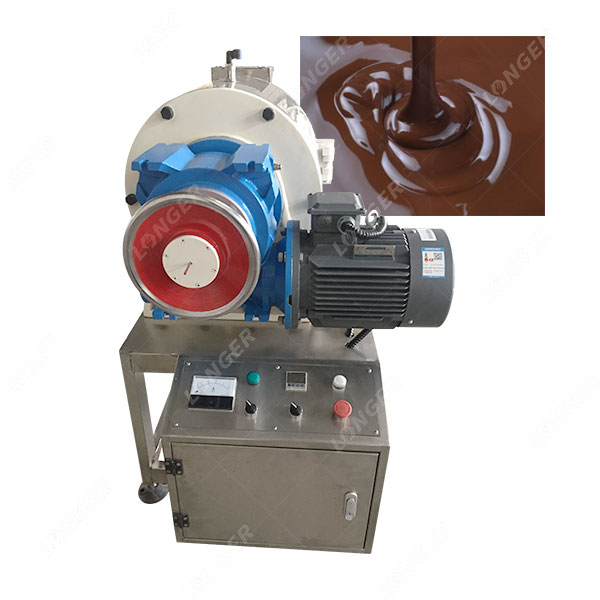 Chocolate Grinding Process
The particles of cocoa mass or powdered sugar that have only been initially ground are relatively large, and they have a rough feeling after entering the mouth. They must be finely ground to further reduce the particles. Most of the particles in the material after grinding are smaller than 25 microns or between 18 and 23 microns, which is the requirement for grinding. Because in this way, the chocolate will not have a grainy feeling after entering the human mouth.
During the refining process, keep the temperature at a certain temperature, the finer the refining, the thicker the chocolate sauce, the higher the viscosity and the lower the fluidity. The ground chocolate sauce enters the moulding machine and is made into various styles of chocolate.
Parameter of Chocolate Grinding Machine Price
| | | | | | |
| --- | --- | --- | --- | --- | --- |
| Model | LG-CJM40 | LG-CJM500 | LG-CJM1000 | LG-CJM2000 | LG-CJM3000 |
| Maximum capacity(L) | 40 | 500 | 1000 | 2000 | 3000 |
| Fine grinding size(μm) | 20-25 | 20-25 | 20-25 | 20-25 | 20-25 |
| Fine grinding time(h) | 7-9 | 12-18 | 14-20 | 18-22 | 18-22 |
| Power of motor(kw) | 2.2 | 15 | 22 | 37 | 37 |
| Power of electric heater(kw) | 2 | 7.5 | 7.5 | 9 | 9 |
| Weight(kg) | 350 | 3000 | 4250 | 5100 | 7000 |
| Dimension(mm) | 1100*800*1100 | 2500*1080*1370 | 2780*1330*1800 | 3320*2000*1950 | 4200*2000*1950 |