The chocolate bar making machine is a fully automatic depositor machine with advanced technology. The LG-CJZ330-510 chocolate bar maker machine adopts three-time depositing and two-time adding (crushed nuts, whole nuts), and integrates baking mold, pouring, mold turning, mold scraping, vibration and cooling.
In addition to solid-color chocolate bars, this machine can also make various sizes, sandwich types, multi-color and multi-flavor chocolate bars and other products.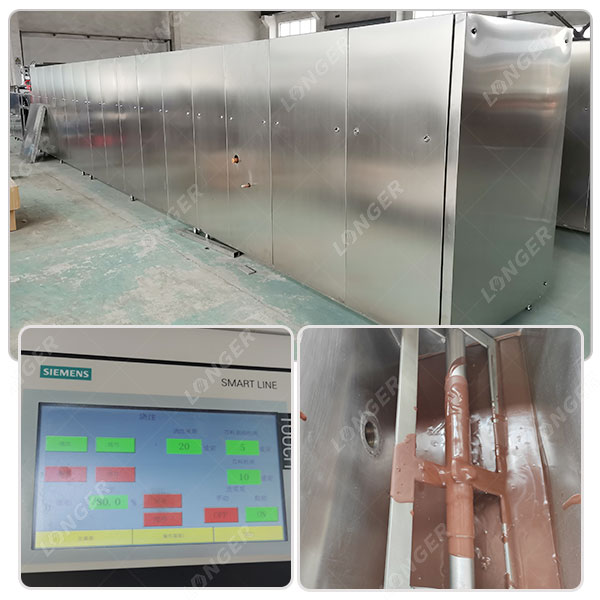 Structure of Chocolate Bar Molding Machine:
Including: preheating cavity, baking cavity, pouring cavity, vibrating cavity, cooling cavity, demoulding cavity set in sequence, conveyor belt connecting and controlling each cavity, and PLC control system for conveyor belt operation.
This chocolate bar maker machine is equipped with 280-320 pieces of standard 330 * 200mm or 510 * 200mm polycarbonate chocolate molds, which are used to shape various shapes of chocolate. For the chocolate pouring machine with a single pouring head, the mold can be integrated and connected to the full-automatic chocolate molding line. They can also be made with a two-piece magnet mold for making solid or hollow chocolate.
The multi-layer chocolate cooling tunnel allows chocolate to stay in the tunnel for 10-40 minutes. The 20HP Emerson Colepand refrigeration system connected to the production line can ensure rapid cooling effect.
The chocolate bar molding machine can be equipped with many additional equipment to form a completed production line, such as a chocolate refiner, a tempering machine, a flower spreader, etc. When a new product needs to be produced, customers can choose to add or change additional equipment as needed.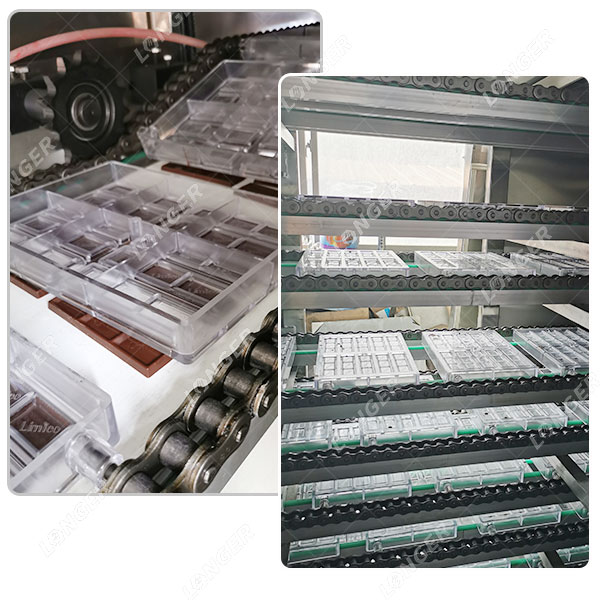 Advantages of Chocolate Bar Making Machine :
It is used to produce all kinds of chocolate, and has the functions of mold heating, pouring, vibration, cooling, demoulding, conveying and so on.
The chocolate products produced are beautiful in appearance, smooth in surface and high in quality.
The advantages of fully automatic continuous production, high production capacity and advanced technology.
The advanced chocolate depositing and molding equipment integrates mechanical control and electrical control.
We also have servo driven with motion controller or PLC. Stable and reliable.
Linear structure, simple installation and easy maintenance.
The remote control system enables us to modify system parameters, diagnose and troubleshoot online, which is not only quick and easy, but also saves costs.
We also provide a chocolate aligning system and flow pack wrapping machine, or a fast fold wrapping machine to dock on the chocolate front discharging conveyor so the chocolate can be wrapped directly.