Yes, you need a chocolate tempering machine. If you want your chocolate to have a melt-in-your-mouth taste and a glossy finish, you must temper your chocolate correctly with a chocolate tempering machine.
The core ingredient of chocolate is cocoa butter. In fact, in the final analysis, chocolate tempering is to temper cocoa butter.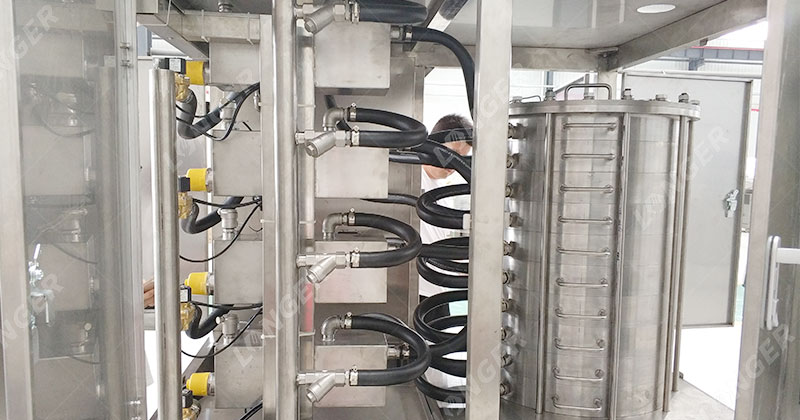 Cocoa butter has complex and unique properties. If there is no external force, cocoa butter cannot return to its original state after melting, and the stable crystal structure will be broken up. Grease spots appear when chocolate is molded into other shapes (the white frost on the surface of the chocolate is the crystallization of cocoa butter). This kind of oil spot will make the chocolate lose its original noble appearance, and there will be many small particles when melting, which will directly affect the taste of the chocolate.
To solve this problem, we need to convert cocoa butter into a stable and easy-to-preserve crystal form through temperature adjustment. This makes the chocolate taste better and look better.
How Does a Chocolate Tempering Machine Work?
The chocolate tempering machine is a special tempering method determined according to the change rule of the crystal form of the chocolate slurry and the growth and formation of the stable crystal form at different temperatures. It can strictly and automatically control the different temperatures required by the chocolate slurry at each process stage.
The temperature adjustment of chocolate has a temperature adjustment curve "melting and heating-cooling and cooling-heating again". The chocolate temperature adjustment curve is: the first temperature zone is 32-50°C, the second temperature zone is 32-27°C, and the third temperature zone is 27-32°C. The temperature adjustment of different chocolates is not completely consistent. Generally, the final temperature adjustment temperature of milk chocolate is slightly lower, which is 29-30°C; dark chocolate is slightly higher, 2-3°C higher than milk chocolate. Because the milk fat in milk chocolate will affect the tempering temperature, the higher the milk fat content, the lower the tempering temperature.