The chocolate production line imported from our company by BCFP in Bangladesh was officially put into production in March 2022, after installation and commissioning by the product engineers of both parties.
Customers have sent us feedback and we are very happy to see the neatly arranged chocolate bars and chocolate beans coming out of the production line.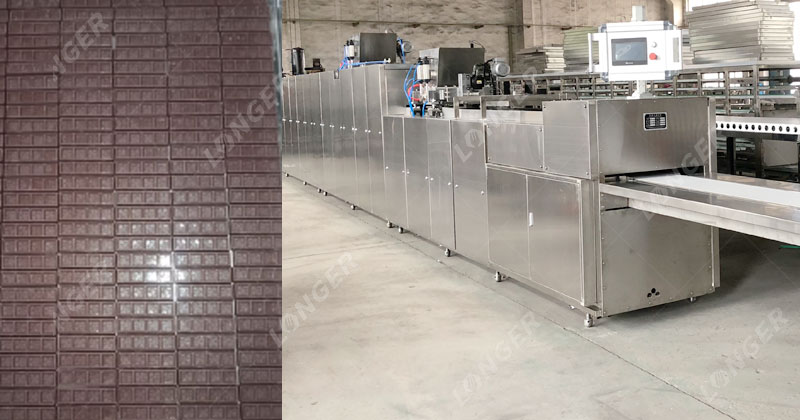 BCFP is located in Ghazipur, Bangladesh and was established in 2005. The business involves the processing and sales of candy, chocolate, fruit juice, pastry, condiments and other small snacks. As the current chocolate products are more and more popular among young people, the company decided to develop the business of processing chocolate bars and coated chocolate beans.
BCFP attaches great importance to the purchase of chocolate equipment, and locks in a number of food processing suppliers for selection. The person in charge personally checks the details of the equipment, and the engineer is responsible for the technical review. Due to the complex processing technology of chocolate blocks and coated chocolate beans, the production line includes ball mill, chocolate moulding machine, coating machine, packaging machine, etc. Therefore, the company attaches great importance to the quality of equipment, delivery time, commissioning services and other strengths.
When BCFP first contacted our company, we showed it our processing technology and equipment parameters and showed our company's office environment, development history, research and development, production plants, etc. through video. At the same time, customers also took the initiative to inform them of the factory and project preparations, and they trusted us very much.
Our company delivered the goods on schedule according to the contract, so the company BCFP received all the equipment within the agreed time limit. After video guidance, the engineer completed the installation and commissioning of the chocolate bar and coated chocolate bean production line equipment. Our company also promises to visit regularly to help customers answer questions and solve problems, so that customers can feel at ease.
Welcome to consult the chocolate production line:
Email: serena@machinehall.com
WhatsApp/Mobile: +8615515597212
Small Scale Chocolate Production Line 80 KG / H
This small scale chocolate production line can be used to produce left and right double-layer chocolates, upper and lower double-color chocolates, sandwich chocolates, etc. Chocolate has rich natural fragrance, smooth taste and bright color.