In September, our company completed the delivery of the automated chocolate making equipment for Canada WN Company to promote its progress in the chocolate processing industry. The whole set of equipment includes chocolate melting machine, refiner, tempering machine, depositing machine, cooling machine , packaging machines, etc.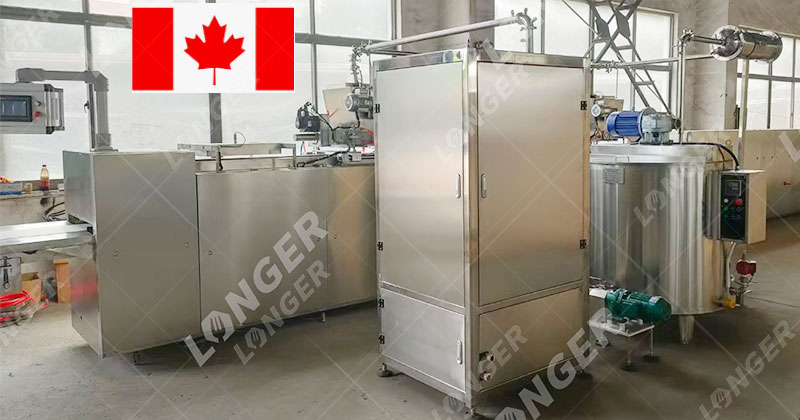 WI Company was not in the chocolate business before, but with the continuous understanding of the chocolate industry and the local market, the customer felt that the benefits brought by chocolate processing were considerable and could enter the local market. However, since the customer had never been exposed to chocolate processing technology and equipment before, the customer visited a number of chocolate factories, investigated local supermarkets, learned about the relevant technology, equipment, local chocolate brands, market size, etc., and decided to start a chocolate processing business.
In the end, we provided customers with an overall chocolate production line, designed a processing flow chart, a factory layout, and provided detailed equipment parameters, including specific indicators such as energy consumption and output. Delivered successfully and on time. Of course, we will also continue to provide services for WN Canada, and look forward to the follow-up cooperation.
Canadian Chocolate Consumer Market:
Global chocolate consumption is increasing year by year. Canada is no exception, and chocolate remains the most popular way to satisfy these candy cravings. In the global chocolate industry, some of the biggest players are The Hershey Company, Nestlé, and Lindt & Sprungli. The sales of the Canadian chocolate market in 2017 show that the competition among the world's major chocolate producers is fierce, such as Nestle, Hersey and Mondelez International, Ferrero, etc.
While a large number of chocolate products are imported into Canada at an increasing rate each year, Canada remains a major chocolate exporter, exporting almost exclusively to the United States. The U.S. is also by far Canada's largest chocolate exporter, followed by Switzerland and Mexico.